Welcome to the Objectiver Virtual Academy!
1. Training objectives
This course aims at getting you acquainted with Goal-Oriented Requirements Engineering and the Objectiver tool. You will learn not only the concepts of goal orientation (goals, requirements, agents, obstacles, ...), but also how to put them into practice for solving a realistic case study.
The main benefits of this e-learning program are as follows:
the quality of the contents: contents have been elaborated by an acknowledged expert in goal orientation, who practises goal orientation for more than 15 years and still works in close cooperation with the University of Louvain (methodology) and the Objectiver designers.
a practical training: you will have the opportunity to understand how powerful goal orientation is by studying a realistic case study and by using the Objectiver tool. At the end of the training programme, you will be really acquainted with goal orientation.
tutoring: your training will be supervised in a non-intrusive way by a tutor to whom you will be allowed to ask questions and advices
the pleasure of learning: just sit down in front of your PC and follow the training at your own pace. If you face an unexpected impediment: no problem, no stress, you just suspend your session and resume it later on, when it is quite convenient for you.
it does not harm just this once, but here quality does come cheap: compare, on the one hand, the price for a full 10-day training programme with travel and accomodation expenses and, on the other hand, the price for this e-learning programme: it's clear-cut!
our blue planet will thank you for your ecological choice...!
2. Training contents
This section gives an overview on the course contents and explains how the course is structured.
2.1 Chapters
The course is structured in chapters. The following table provide information on the content of each chapter:
Chapter

Title

Description

1

Introduction

This chapter starts by presenting the prerequisites for this course (see below). Then, the case study that will be elaborated is presented.
You will also learn some basics about Objectiver.

2

What are goals?

This chapter introduces the concept of goals, which is central to goal orientation.
Goals are first defined and illustrated on several domains.
Then we apply the concept on the case study to start eliciting goals.
Finally, we will show you how to create goals in Objectiver and how you can trace them back to source documents.

3

Goal refinement

This chapter explains the concept of refinement:

how to structure goals from the most abstract to the most operational one
how to build refinements by asking the HOW and WHY questions on goals
what are the notations for refinements
AND-refinements and OR-refinements
the bottom-line: requirements, expectations, domain properties and hypotheses
tactics for decomposing goals in a systematic way

4

Conflicts and obstacles

This chapter introduces two important concepts of goal orientation:


These concepts are first carefully defined and illustrated on examples.
The case study is extended to take those concepts into account in the modelling process. You will then see how it is fundamental to reason about conflicts and obstacles to achieve a realistic and complete requirements document.

5

Objects

A good requirements document does not consist only of goals and requirements. We also need to provide a precise definition of the terms that are specific to the requirements document. This is a necessary condition for avoiding misunderstanding, ambiguities and to favour a common vocabulary during the development project.

This chapter is dedicated to domain concept modelling. You will learn how to define terms and how to make them appear in the requirements document.

6

Validating the model

In this chapter, the techniques used to validate a model are studied. Validation takes place before writing the requirements document so that the requirements engineer is sure that the requirements document he/she will write is almost correct and complete.

7

Deriving a requirements document

This chapter focuses on requirements document generation. You will learn how to extract information from the model and how to use predefined generation assistants.

8

Concluding remarks

This chapter concludes the lecture by drawing some lessons from it.
2.2 Modules
Each chapter is decomposed into modules. There are four categories of modules:
Theory. The modules in this catagory aim at introducing the concepts on which the chapter focuses.
Case study. The modules in this categoty apply the concepts on the case study developed all along the course
Tool. The modules in this category focus on the use of Objectiver; important functions and steps are detailed. Movies show you how to use the tool to model the case study.
Quizz. You will have the opportunity to test how well you have assimilated the concepts studied in the chapter.
2.3 Case Study
The case study is about the management of a car park system with automatic barriers and time-stamped tickets. The case study has been selected for the following reasons:
The system is easy to understand even if we have never experimented it.
The requirements for this system seem easy to set up, but in fact, the study of the system with goal orientation in mind will reveal things we probably would have overlooked!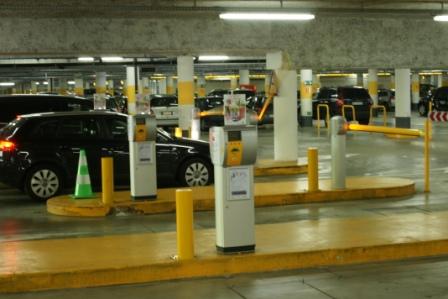 The requirements document you will get at the end of the course is about 125 pages long, describes the requirements and the expectations by grouping them in 46 topics. The model contains 135 properties expressing what is required from the future system and what is expected from its interacting environment.
2.4 Roadmap
You are free to follow the chapters and the modules in any order. However, if you are a novice to goal orientation, a roadmap showing the order we advise is given in each chapter in order to help you approach the modules. The following figure is an example of roadmap you will find in the course: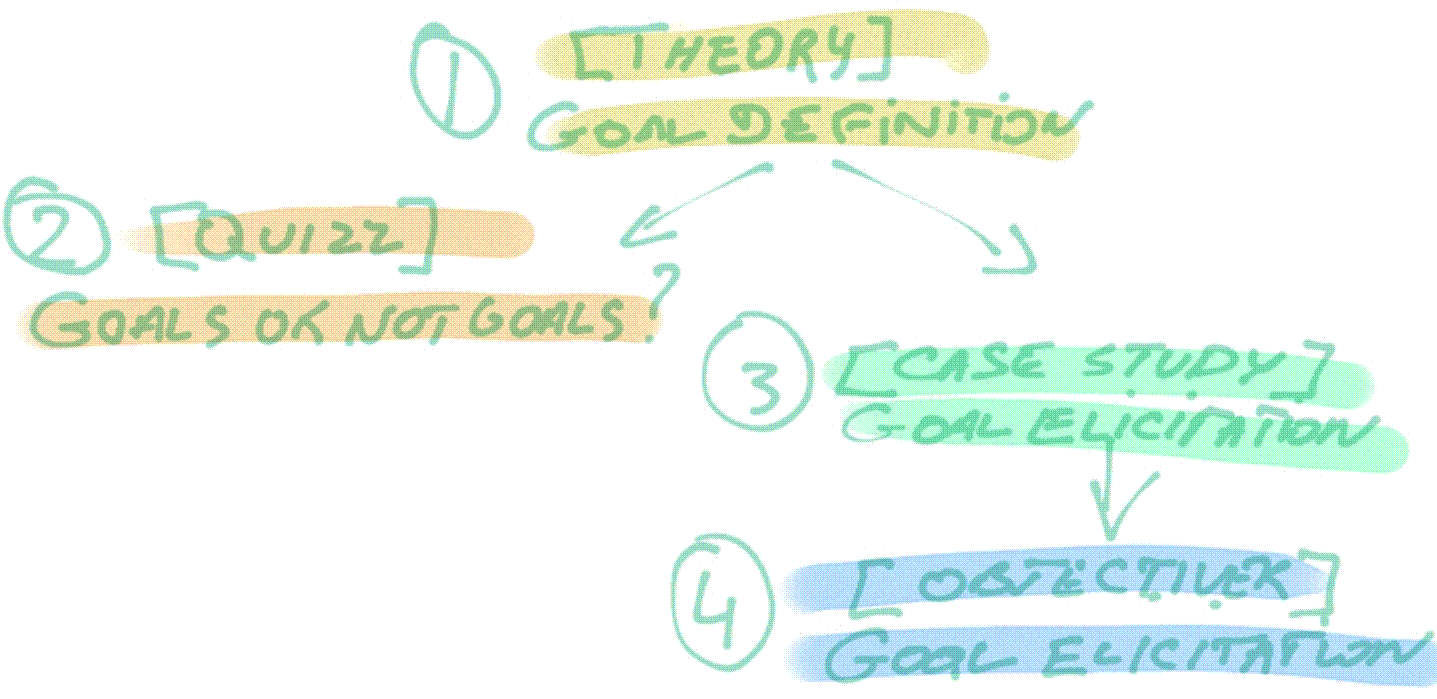 2.5 Guided Tour
Follow this link to preview the course front page and to access a guided tour (7' demo).
3. Prerequisites
This section explains what we are expecting from you.
3.1 About you...
We are expecting from you that
you understand the kind of problem, Requirements Engineering is addressing;

you can use some "standard" software tools like a word processing editor, a graphical editor (as in Microsoft Powerpoint for instance), and so on.

you are very motivated to learn goal orientation. To ensure a good follow-up of learners, the number of simultaneous subscriptions will be limited.
We are NOT expecting from you that
you are an expert in modelling

you already know other modelling approaches or techniques for building requirements documents.
3.2 Companion book
van Lamsweerde's book is a perfect companion book for this course. You will find it complementary readings and input allowing you to consolidate your knowlegde.
3.3 Objectiver
You will receive an evaluation, time-limited copy of the Objectiver software. The license key will be provided at activation time (see below).
3.4 Copyright, license agreement and obligations
By subscribing to the course, you shall commit yourself to comply with a set of rules described in the following document.
4. Training operations
This section provides operational information on the course.
4.1 Duration and expected effort
We estimate the effort required to attend all modules between 24 and 40 hours work. You will be granted access to the virtual academy platform for 3 months.
4.2 Price
The price per individual subscription is 950 € 750,- € VAT excluded for any subscription before end of June, 2013. Significant discounts for group subscriptions exist. Ask us for details.
4.3 Subscription process
You will be asked to follow the following process to subscribe and activate your training programme:
Fill in the application form for this course and apply for the course. In the application form, you will be requested to motivate your application and to specify a start date for your training. If you are not yet registered on this site, you will be requested to register it first. Acceptance of subscriptions is not automatic. Admission may be rejected or delayed. Your application will be evaluated and our decision communicated within one week (on the average).
In case of admission, we will send you an electronic bill.
Pay the bill (bank transfer)
Once your payment is recorded in our accounting system, we shall activate your account and send you by e-mail the following information about 5 days before the starting date of the training:
login and password
enrollment key to the course
time-limited Objectiver license key
Download the tool (if not already done) and install the license
Start learning...
Please take the internal constraints of your organisation into account to plan a realistic start date for your training: you will not be granted access to the virtual academy without payment.